This is a dry Bengali style cauliflower curry that tastes very good with Luchi/Poori or Paratha.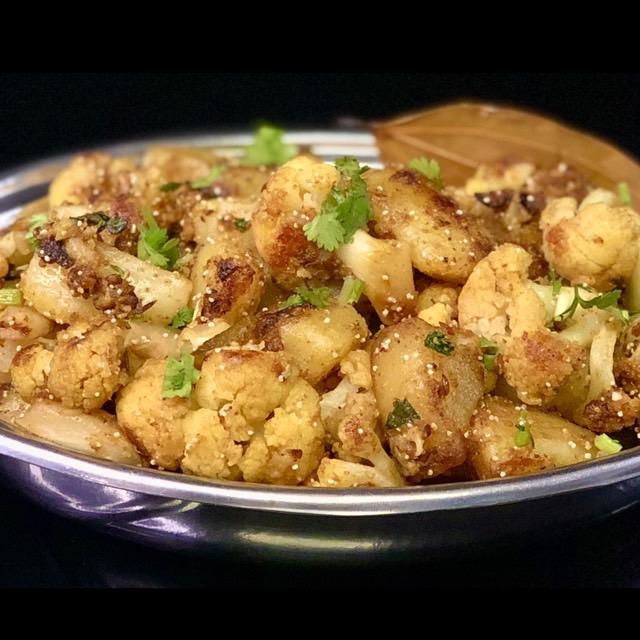 How to make Bengali Cauliflower Curry-Phulkopi Aloor Torkari
Description
This is a delicious Bengali Cauliflower curry. It is a dry preparation that you can eat with Paratha or Luchi/Poori or press into a cutlet or use as a samosa filling!
Instructions
Cut the cauliflower in small/medium sized florets
Submerge the florets in hot water for 2 min so they are thoroughly cleaned
Drain the water from the florets and set aside
Peel the potatoes and cut in 1 inch pieces
Make a paste of ginger and green chillies and set aside
Make garam masala  powder with the ingredients mentioned above and set aside
Set a pot on low heat and add 1 tbsp. oil (any neutral cooking oil) and 1 tbsp. mustard oil 
You can also cook in pure mustard oil 
Add 1/2 tsp. cumin seeds, bay leaf, a pinch of turmeric powder, coriander powder, cumin powder, Hing or asafoetida and the ginger/green chilli paste
Stir fry for 30 sec 
You can sprinkle a little water so the masalas don't burn
Add the cauliflower florets and the potatoes
Add salt to taste and sugar
Stir and place the lid on for 5 min
Check if the potatoes have boiled if not give the curry a stir and place the lid on for few more minutes
Add 1 tbsp. ghee, the garam masala powder, turn up the heat and stir fry the cauliflower till they turn golden brown. This should take ~5 min
Add Amchur powder and stir
Add poppy seeds and stir
Garnish with coriander leaves
This curry tastes very good with Luchi/Poori or Paratha
Video
Phulkopi Aloor torkari, cauliflower curry bengali, bengali cauliflower curry, phulkopi recipes, fulkopi recipes, phulkopi niramish recipes, fulkopi niramish recipes, how to make phulkopir torkari, how to make fulkopir torkari, no onion no garlic bengali recipes, no onion no garlic curry recipes, bengali recipe ideas, bengali recipes, cauliflower recipes bengali, gobhi recipes bengali, bangla kopir tarkari