These semolina pancakes are light and fluffy with a classic apple cinnamon flavor!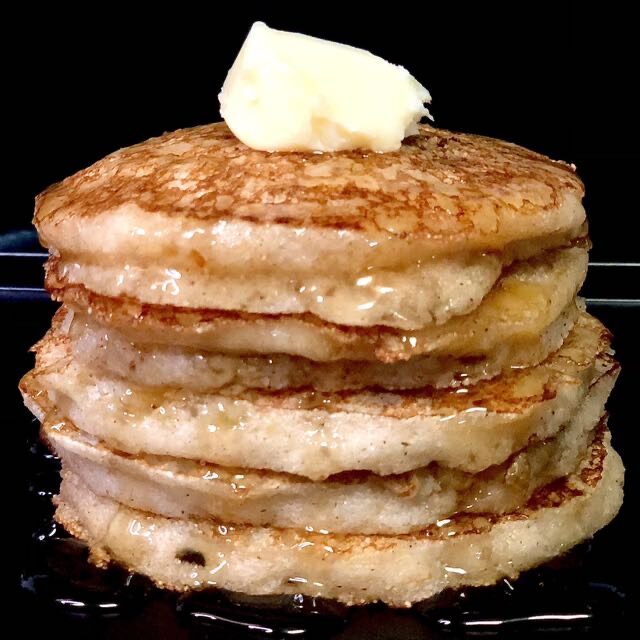 How to make Keto Cabbage Noodles
Description
These semolina pancakes or suji pancakes or Rava pancakes turn out fluffy and soft. These pancakes have a classic cinnamon apple flavor. Easy breakfast recipes like this can be made in no time and kids especially enjoy it!
Instructions
Grind (partially) or grate an apple.
Add lime or lemon zest
Squeeze half a lime or lemon
Take one cup or semolina or Rava in a bowl
To this add yogurt, 1/2 cup of water, salt, cinnamon powder, and vanilla extract 
Add grated apple
Mix well
Let this rest for 15 min
Add more water till the mix reaches pancake batter consistency. I added ~ 1/2 more cup of water
Add baking soda and mix
Set a non-stick or cast iron skillet on medium heat
Spread some butter on the pan
Add 2 tbsp. of the batter
Fry till they turn golden brown on both sides ~1 min per side
Enjoy with pancake syrup or honey
Video
semolina pancake, semolina pancake recipe, how to make semolina pancake, rava pancake, rava pancake recipe, how to make rava pancake, eggless pancake, how to make eggless pancakes, sooji pancakes, how to make sooji pancakes, healthy breakfast recipes, kids healthy breakfast recipes, healthy breakfast ideas, kids snack recipes, apple desserts eggless, easy pancake recipe, healthy snack ideas for kids, healthy pancakes, eggpless pancake recipe