Andhra Prawn pulao is a very flavorful rice preparation and its a one-pot recipe!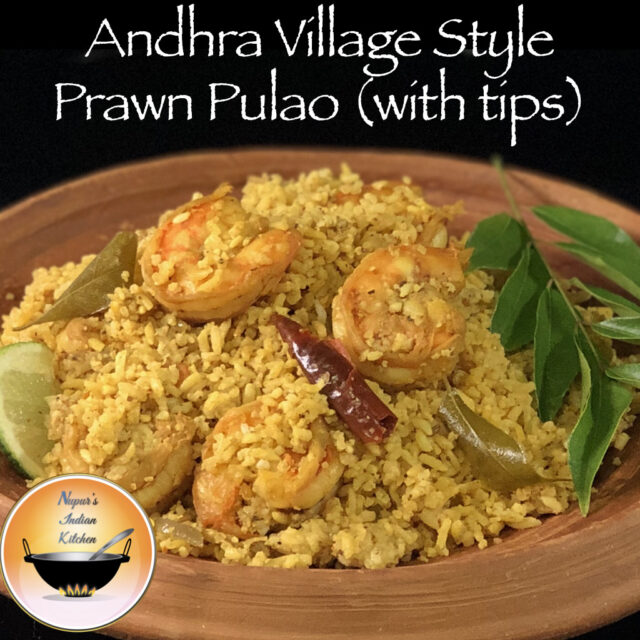 How to make Andhra prawn pulao-village style
Description
I tasted this Prawn Pulao (Royyala Pulao) at my mother in law's place (a village near Visakhapatnam, Andhra Pradesh). I was mesmerized by how it tasted. It is made without any mint or coriander leaves, just simple spices and curry leaves! The depth of flavor is amazing and I can't wait for you to try it.
Ingredients
Prawn/Shrimp Marinade

Rice


Dry Garam Masala Mix

Other ingredients


Raita (or called Kachamri in Telugu)
Instructions
Andhra prawn Pulao is made with a short grained rice. This is called Chitti Mutyalu rice in Telugu. You can use Jeerakasala or Seeraga samba rice varieties. Sona Masoori is alright too. Long grained Basmati rice is not used. The aroma of Basmati rice interferes with the aromas of the other spices
Wash the rice in water and then spread it on a tray lined with a cloth. Place the tray under a fan (if possible) so the rice dries completely. This shouldn't take too long. The rice will dry as you are prepping for the other steps of the recipe
Another possibility is that you can use unwashed rice straight from the store bag.
Grind all the fry spices to a coarse powder and set aside
Make 2 tbsp. of fresh ginger and garlic paste
Add turmeric powder and salt to deveined and cleaned shrimp/prawn 
Add 4 tbsp. cooking oil (any neutral oil or Gingelly Oil) to a pot and set on high heat
If the heat is low, the prawns will ooze out a lot of water while stir frying. High heat will prevent this
Add the shrimp/prawn and sauté till they turn orange/opaque. This should take less than 2 min 
Take out in a bowl and set aside
Once the rice has dried up, transfer to a bowl 
Add 1/2 tsp. of salt and 1/2 tsp. of turmeric powder
Add 1 tbsp. of fresh ginger garlic paste
Add ~1/2 of the dry masala mix
Mix everything with your fingers (easier to mix with fingers than with a spatula)
Add 2 tbsp. oil or melted ghee to the rice and mix well
Oil or ghee makes all the masalas stick to every grain of rice
Set the rice aside
To the same pan in which the prawns was sautéed, add 2 tbsp. of ghee and set it on medium heat
Add 1/2 tsp. of cumin seeds, 1 sprig of curry leaves and 4-5 dried red chillies 
You can break the chillies and add them if you like it hot alternatively you can deseed them 
Add sliced onions and 1 tbsp. of ginger garlic paste
Sauté till the onions till they turn translucent. This should take ~2-3 min
Add the prawns/shrimp 
Add the other half of the dry masala powder
Sauté everything for another minute 
Add the rice (coated with spices)
Stir fry the rice for 10 min
Stir frying the rice will make sure that the rice doesn't stick to each other when cooked with water and the raw taste of the ginger/garlic paste added to the rice also disappears 
Add water to the rice. The quantity of water to be added would depend on the variety of rice that you are using. Most of the time, twice the quantity of water to rice plus one more cup of water is enough
Cooking the rice (without letting the bottom layer of rice burn)
Close the vent of the lid (I do it with a clove lol!
Let the rice cook for 10 minutes on medium heat
Then reduce the heat to low and cook for another 10 min (or till all the water has just been absorbed)
Sprinkle some water if the rice looks too dry
Carefully mix the rice with a spatula (so the bottom layer comes to the top). This will prevent the rice from burning at the bottom
Place the lid on and keep cooking in low for another 10 minutes, till the rice cooks through completely 
The Pulao tastes even better the next day! (Not kidding)

Raita or Kachamri

Take 1 cup of plain unsweetened yogurt in a bowl
Add chopped onions, chopped green chillies and salt to tast
Mix well
Add few drops of lime juice (optional)
Thin it out with some water (if required)
Video
Notes
Gingelly oil or Sesame oil is used most often in this recipe
రొయ్యల పులావ్, Andhra Prawn Pulao, Andhra Prawns Pulao, Royyala Pulao, Royyala Pualo Recipe, Prawns Pulao Andhra Style, Andhra Style Prawn Pulao, How to make Prawn Pulao, Easy Prawns Pulao Recipe, How to make Andhra Prawn Pulao, Andhra Style Spicy Prawns Pulav, Village Style Prawns Pulav, Village Style Royyala Pulao, Spicy Prawn Pulao Andhra Style, Andhra Style Prawns Style, Royyala Pulav recipe, Telugu Prawns Pulao