If you like dhaba-style mushroom masala, you will love this recipe!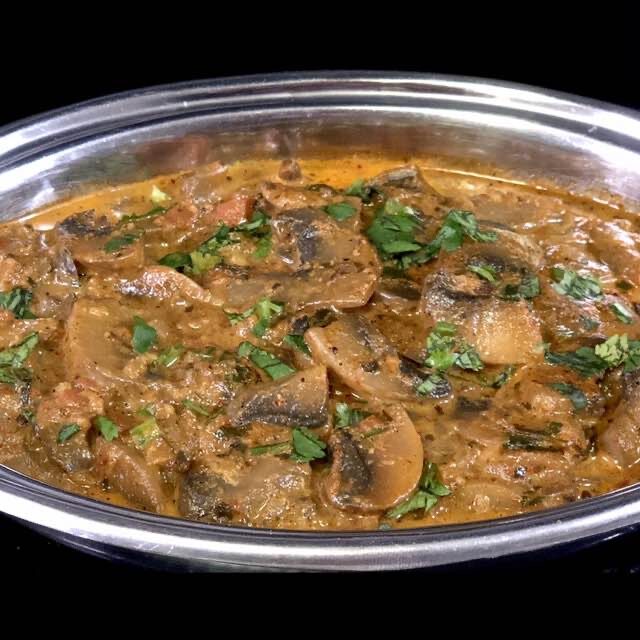 How to make keto mushroom curry-mushroom masala
Description
Mushroom masala is a popular dish in India. This mushroom curry tastes just like restaurant style mushroom masala! Very flavorful and creamy gravy, perfectly pairs with roti or rice.
Instructions
Set a pot on medium heat and add oil. When the oil heats up, add a cinnamon stick and cumin seeds
Once the cumin seeds start to splutter, add chopped onion. Sprinkle some salt so the onions cook faster
Stir fry the onions for ~1 min and add crushed ginger garlic
Stir fry till the onions turn golden brown. This should take another min
Turn down the heat and add turmeric powder, coriander powder and red chilli powder
Stir fry the spices for 20-30 sec. Splash some water if the pot is too hot and you feel like the spices may burn
Add chopped tomato
Give it a quick stir and place the lid on for 1-2 minutes or until the tomatoes turn mushy
Stir fry the tomato paste till it looks oily (~2 min)
Add sliced mushrooms with some salt
Stir fry the mushrooms till they soften a little. (~2 min)
Add 1.5 cups of water
Place the lid on and let the curry simmer for 5 min
Add black pepper powder and garam masala powder
Add 1 tbsp. of dried fenugreek leaves (crush them in between your palms and add it in)
Add salt to taste
Add heavy cream and coriander leaves
Place the lid on and let the curry simmer for 2 min
Garnish with some more coriander leaves!
Video