Ivy Gourd or Kundru or Tindora is a popular vegetable used in south Indian cuisine. Ivy gourd fry and curries are popular dishes. In this recipe, I made a delicious kundru chutney and then stir fried it with rice, making a delicious Tindora rice!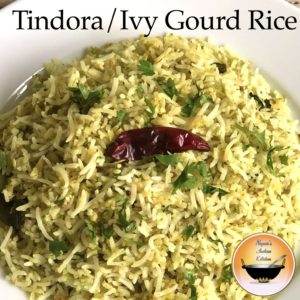 Tindora Rice Recipe/Ivy Gourd Rice
Description
This recipe combines the taste of kundru/tindora chutney with crunchy coconut flakes and roasted peanuts! The best part about this recipe is that you won't have the tedious task of cutting each tinder one by one! Just pour them in a food processor along with all the spices and done 🙂 If you have left over pre-cooked rice, you got to try this recipe!
Instructions
We need around 6 cups of pre-cooked rice. You can use any type of rice
Make sure that the tindoras have been nicely cleaned. Cut off the ends of the tindoras
Pour the tindoras into a food processor.
Add in 5 to 6 garlic cloves that have been roughly chopped, ~8 to 10 curry leaves, three green chillies or to taste, and one and a half tablespoon of peanuts.
Grind everything to a coarse paste and set it aside
Add 2 tablespoons oil to a pan set on medium heat
Add in the dry red chillies, mustard seeds, crushed coriander seeds, curry leaves, hing or asafoetida and turmeric powder
Stir fry everything for around 15 to 20 seconds
Add in the crushed ginger paste and the grated coconut
Give it a quick stir and add in the tindora paste
Add salt to taste. i'm adding approximately one and a half teaspoons of salt
Mix well and place the lid on.
Turn down the heat to low and let this cook for around 7 minutes or so
Turn up the heat to medium again and add around 1 tablespoon oil
Stir fry the tindora till the paste looks slightly light brown in color. This should take approximately 10 minutes
Add in half of the chopped coriander leaves and half of the lime juice
Mix everything together and check for salt
Add in the pre-cooked rice.
Add salt to taste
Mix the rice and the masala thoroughly
Stir fry the rice for 10 to 12 minutes
Add in the remaining lime juice and the remaining coriander leaves
Mix everything
Video
Tindora Rice Recipe, Ivy Gourd Rice, Kundru Rice Recipe, Tendli Bhaat, Tondli Bhaat, Dondakaya Rice, Ivy Gourd Recipes, Tindora Recipes, Easy Tindora Rice, Masale Bhaat, kovakkai recipes, kovakkai rice, rice recipes, dondakaya recipes, tindora bhat, tendli recipe, dondakaya annam, how to make dondakaya pulav, how to make tondli bhat, tondli rice recipe, masala bhaat, tendli rice recipe, tendli rice south indian style, tondali bhaat, kovakkai Sadam, Tondli masala rice