These cheesy air fryer bread pockets are a quick and delicious snack that you can make in minutes!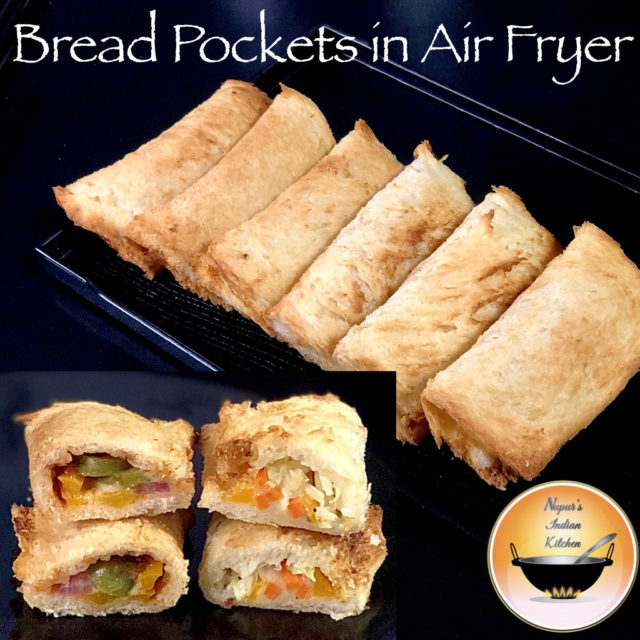 How to make easy air fryer bread pockets-quick snack recipe
Description
Delicious cheesy bread pockets! A quick snack that especially your kids will love 🙂 I am sharing 2 simple fillings here.
Ingredients
Bread Pockets 1st filling

Bread Pockets 2nd filling
Instructions
Cut off the edges of the white breads
Dampen with a brush (on both sides)
Flatten the bread with a rolling pin

Filling 1

Spread some mayonnaise 
Sprinkle some salt and pepper
Add some shredded cabbage, sliced carrots and sliced bell pepper
Add any cheese of your choice

Filling 2

Spread some ketchup or pizza sauce
Sprinkle some dried oregano and red chilli flakes
Add bell pepper, onion and olives (you could add mushroom too!)

Common steps

Fold the bread and seal the edges by pressing it firmly, to form a bread pocket
You can dampen your fingers and press the edges to help with sealing the edges
Apply butter on both sides
Air fry for ~6-7 min at 350 degrees farenheit
Place the bread pockets on a plate lined with a paper towel so they don't turn soggy.
Fahrenheit (no pre-heating required)
Enjoy with ketchup or your favorite dip!
Video
bread pockets, bread pockets recipe, cheesy bread pockets, veggie bread pockets, bread pockets in air fryer, air fryer snacks recipes, quick snacks in air fryer, quick kids snacks, easy and quick snacks in air fryer, pizza bread, pizza bread pockets, veggie tea time snacks, veggie appetizers, vegetarian bread pockets, bread snacks, snacks for kids, bread roll in air fryer, air fryer recipes, indian air fryer recipes