This spinach pasta tastes creamy and delicious without any added cream!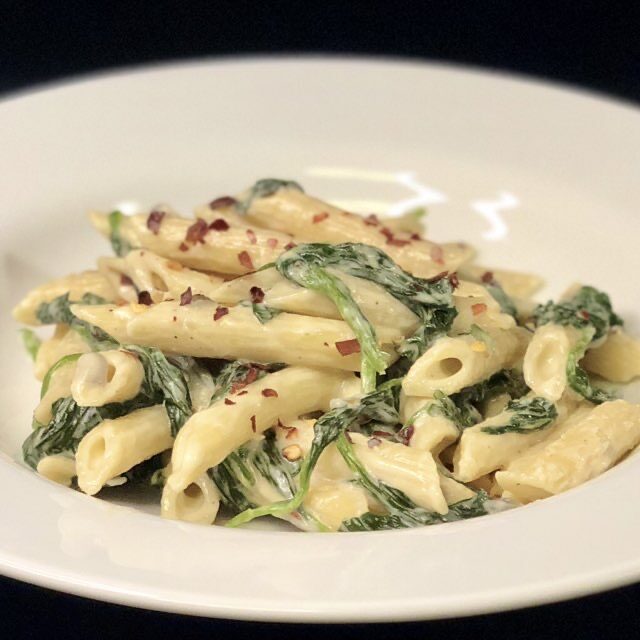 How to make creamy spinach pasta with Bechamel sauce
Description
Today I'm going to share a yummy spinach pasta recipe that is beautifully creamy without using any cream!
Instructions
Bring a pot of water to a boil (about 10 cups of water), add two teaspoons of salt, one tablespoon of olive oil and give that a stir.
You can choose any type of pasta for this recipe I am using penne pasta. Give the pasta a stir after you add it in, because they tend to stick at the bottom of the pot. This pasta takes 11 minutes to get to the perfect Al Dente consistency
Once you drain off the water, add in some olive oil, and give the pasta a a stir so they don't stick to each other
Next set a pot on medium heat and add 2 tablespoons of olive oil and 3 tablespoons of chopped onion
Give the onions a stir until they turn slightly translucent, they should approximately take a minute and next add in one tablespoon of chopped garlic
Quickly stir in the garlic for about 30 seconds.
Next goes in spinach leaves, some salt to taste and stir this until the leaves wilt. If you're using larger spinach leaves you can chop them up and then add them in.
Once the leaves have wilted, take them out and set them aside
Next we'll make some bechamel sauce: so to the same pot add in 2 tablespoons of olive oil and 2 tablespoons of all-purpose flour. Stir the roux for approximately two minutes. Stir it continuously so it doesn't burn. It's going to bubble up and get thinner in consistency, keep stirring it till you feel that the rawness in the flavor has vanished, but don't stir it till it turns too dark if not you're going to get like a burnt taste.
Next, add in two cups of milk (use whole milk if you want the sauce to be nice and creamy). Stir it vigorously so there are no clumps of flour formed.
For some added flavor, add in half a chicken stock cube and half a teaspoon of black pepper powder (you can also use veggie stock if you wish)
Next I'm adding in two slices Amul cheese, you can use any cheese of your choice. One very important tip is to turn down the heat when you're making the sauce, so it thickens slowly (because we want the sauce to enter the holes of the pasta not only coat them)
Next add in the spinach leaves and salt (to taste).
Turn up the heat and cook the sauce to the consistency that you like (I would say when a thick layer coats your spatula) we are ready to turn off the heat and add in the boiled pasta
Gently toss the pasta in the sauce, you can add a little bit of lemon juice if you like
I like to garnish it with some red chili flakes and we're done.
Video
spinach pasta recipe, spinach pasta, pasta recipe, pasta recipes, vegetarian pasta recipe, spinach pasta with white sauce, white sauce pasta, spinach pasta with cream, pasta with bechamel sauce, indian style pasta with white sauce, veggie pasta recipe, spinach pasta recipes, pasta, indian pasta recipes, vegetarian pasta recipes, pasta with white sauce, easy pasta recipes