Alu Phulkopir Dalna is a Bengali style Cauliflower gravy preparation.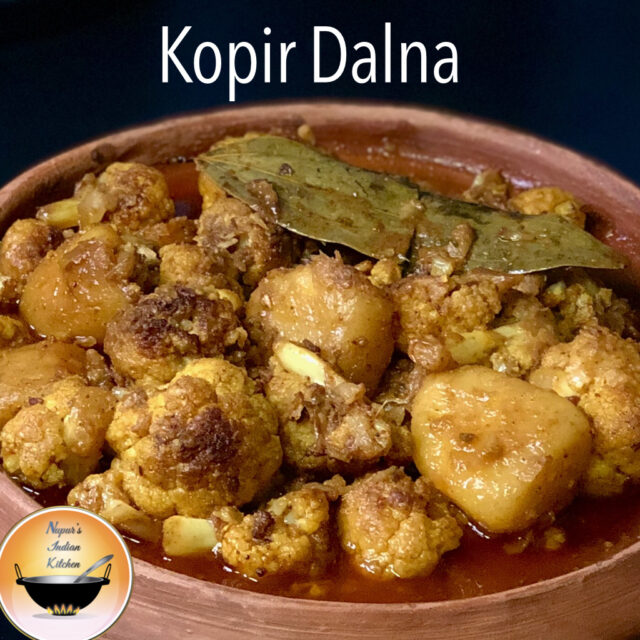 How to make Alu Phulkopir dalna
Description
This is a delicious Bengali style cauliflower curry also called Alu phulkopir Dalna. Pairs perfectly with Pulao or Roti
Instructions
Cut a medium sized cauliflower into large sized florets. The large size of the florets makes sure that the cauliflower doesn't melt away into the gravy
Set a pot on medium heat and add 3 tablespoons of mustard oil, a quarter teaspoon of turmeric powder, a quarter teaspoon of salt and add the florets in
Alternatively you can also coat the cauliflower florets with turmeric powder and salt and then add them in
Stir fry the florets until they become golden brown in color. If the cauliflower is hard you may need to place the lid on for them to get a little softer but you don't necessarily have to do that you can only stir fry them till they become brown and tender
Take the florets out into a bowl
Next into the same pan add some more mustard oil, a little more turmeric powder some more salt and we are going to get ready to fry our potatoes.
I used three small potatoes that I cut in quarters, we want to make sure that our potatoes are cooked through to about 80 to 90 percent. So for this sprinkle a little bit water on the potatoes, place the lid on for about five to seven minutes depending on how hard your potatoes are
Continue to stir fry them till they have a nice brown crust
Once the potatoes have a nice brown crust, move them to one side of the pot (or take it out in the bowl if you don't have enough room in the pot).
Add some more mustard oil if needed and then add a half a teaspoon of cumin seeds, one bay leaf, a half a teaspoon of cumin powder, a quarter teaspoon of turmeric powder, 1 teaspoon of kashmiri red chilli powder and half a teaspoon of red chili powder
Stir fry the potatoes along with all the spices (if the pot is too hot splash a little bit water and keep stir frying the potatoes) make sure to stir fry the spices for two to three minutes because that's going to make the curry taste absolutely flavorful
Next add in the stir-fried cauliflower and mix everything well
Next goes in a two inch piece of ginger (crushed in a grinder) and we're going to stir fry all the spices and the ginger and the potatoes and the cauliflower for about 2 minutes
Give it a taste and add some salt as needed
Next add in water. The amount of water you add depends on your taste I added about one cup of water, a half a teaspoon of sugar or as much as you like, place the lid on and let the gravy simmer for 5 minutes
One last important ingredient is fresh garam masala powder. For this, grind four green cardamoms, one inch cinnamon stick, and four cloves. This is very important try to use fresh garam masala powder it makes the curry taste rich
Reduce the gravy to the consistency that you like
All done!
Video
kopir dalna, alu phulkopir dalna, phulkopir dalna, cauliflower curry bengali style, bengali vegetarian recipes, aloo phulkopir dalna, cauliflower bengali recipe, how to make bengali cauliflower recipe, bangla cauliflower recipe, kopir dalna recipe, how to make kopir dalna, aloo kopir tarkari, aloo fulkopir tarkari, alu fulkopi recipe, alu phulkopir niramish recipe, alu kopir niramish recipe, alu phulkopir torkari