These chocolate nut raisin clusters are crunchy and chocolaty and so easy to make!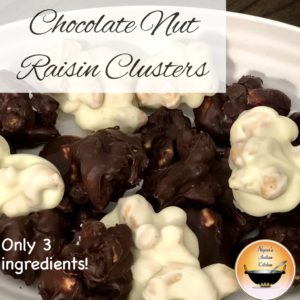 Chocolate nut raisin clusters
Description
A fun treat for you and your family!
Instructions
Take a microwave safe bowl
Add in the chocolate morsels
Sprinkle some salt
Melt the chocolate in the microwave in 30 second increments (1 cup of chocolate should not take more than one minute to melt)
Add in the nuts and coat well
Scoop the mix on a tray or a plate lined with wax paper or parchment paper
Refrigerate for 30 minutes till they firm up or you could also freeze it for 7 to 10 minutes instead!
Video
Notes
If you are using salted nuts then you don't need to add additional salt in the recipe
You can also add dried pumpkin seeds, sunflower seeds or dry shredded coconut
Chocolate nut raisin clusters, chocolate nut clusters, chocolate nut clusters recipe, how to make chocolate nuts, how to make chocolate raisins, chocolate nut microwave recipe, chocolate almonds, chocolate cashews, easy chocolate recipes with nuts, easy chocolate treats, easy chocolate clusters recipe, nut clusters, healthy chocolate nut raisin recipe, chocolate cashew nuts, healthy chocolate nut recipe, easy chocolate recipe, microwave chocolate nut, Chocolate dried fruit