Mughlai Chicken curry is a royal preparation with a creamy rich sauce!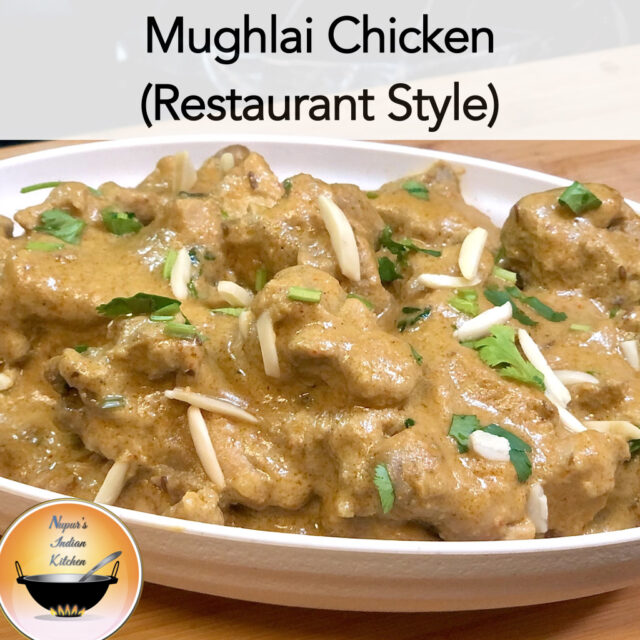 How to make a delicious keto chicken curry- keto mughlai chicken
Description
Mughlai Chicken delicious curry with a rich, flavorful and creamy gravy, made of nuts, coconut flakes and heavy cream!
Instructions
Soak the cashew nuts and almonds in hot water for 10-15 min
Discard the water, peel the almond skins off and set the nuts aside
Stir fry the thinly sliced onions in 3 tbsp. of oil until they turn a deep golden brown in color. This should take approximately 5-6 min on medium heat
Transfer the onions to a grinder jar along with the soaked nuts and dry shredded coconut
Grind everything to a smooth paste and set it aside
Set a pan on medium heat and add 2 tbsp. of oil
Add cumin seeds, black cardamom, green cardamom, black peppercorns, cinnamon sticks and a bay leaf
Stir fry for 30 sec until the spices turn aromatic
Add the nut/onion paste and stir fry for 2-3 minutes or until it turns oily and glides easily on the pan
Add the chicken pieces
Add turmeric powder, coriander powder, red chilli powder and salt to taste
Stir fry the chicken for approximately 5 min
Add green chillies to taste
Add 1.5 cups of water and place the lid on until the chicken is tender. This could take 8-10 minutes
Let the gravy simmer and reduce till the reaches a slighly creamy consistency
Add heavy cream and garam masala powder
Let the gravy simmer for a minute till the cream slightly melts
Garnish with coriander leaves!
Video