This Andhra Style Gongura Fish Curry fish curry has an explosion of flavors! The tanginess of Gongura leaves and the addition of lots of chilli powder makes this a "wake-me-up" fish curry! Hope you enjoy it!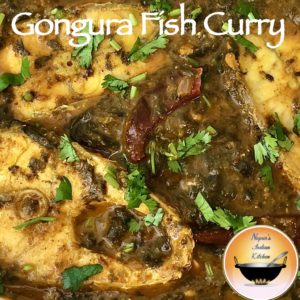 Andhra Style Gongura Fish Curry
Description
This fish curry is very popular in the state of Andhra Pradesh in South India. Sorrel Leaves or Gongura leaves have a lovely tangy taste. Its used for making pickles, chicken curries, and is added to lentils as well. Adding these to your fish curry makes it taste really bright and flavorful!
Instructions
Add four tablespoons of sesame oil to a pan. If you don't have to use sesame oil you can also use normal oil if you wish. You don't exactly need four tablespoons, you just need enough oil to coat the surface of your pan
Set the pan on medium high heat and place the fish pieces in. We want to slightly fry the fish so it holds its shape in the gravy. One minute per side on medium high heat is more than enough.
Lower the heat of the pan and add another tablespoon of oil if needed
Add in cumin seeds, mustard seeds, dried red chilies, curry leaves and turmeric powder. Give this a quick stir
Add in the onions, crushed garlic and ginger, sprinkle some salt so the onions cook faster. Stir fry this till the onions turn slightly brown this should take around 5 minutes or so
Time to put the gongura leaves in. Place the lid on till the leaves wilt. It should just take a minute or so
The leaves change color to brown. Keep stirring this for another five minutes till all the leaves uniformly turn brown. As you keep stirring you'll start to feel that the leaves feel quite moist and if you stir even further they start to feel a lot stickier and slimy. At this point you can add in the dry masala mix
Combine everything well and keep stirring till the leaves glide easily on the surface of the pan and it feels oily. It should take just a minute or so of stirring
We are ready to add in water. We are going to add in a little water at a time so it's easy to mix in the leaves and the water the amount of water to add would depend on the kind of consistency of gravy you would like. I added a total of two and a half cups cups of water
Add in the kashmiri red chilli powder and the normal red chili powder and give everything a good mix
Lower the heat and place the lid on. Let the gravy simmer for 5 minutes.
Let's give this a taste check for salt. Add salt as needed
Add in the fish pieces
Fish cooks really quick all we need to do is submerge it well in the gravy, place the lid on and cook for just two minutes
Garnish with some coriander leaves and all done!
This tastes the best with steaming hot white rice!
Video
Notes
You could use any fish of your choice in this recipe.
Use half the amount of Gongura leaves if you prefer the gravy to be less tart
This curry tastes amazing with steaming hot white rice!
Gongura Fish Curry, Gongura Fish Masala, Gongura Chepala Pulusu, Sorrel Fish Curry, Andhra Fish Curry, Andhra style gongura fish curry, Chepala Pulusu, fish curry, fish masala, andhra style fish curry, how to prepare gongura fish curry, gongura recipes in telugu, fish curry recipe, gongura chepala pulusu, gongura fish pulusu, gongura fish, gongura recipes, fish curry indian style, easy fish curry recipe, gongura fish curry, gongura fish curry recipe, fish pulusu