Ginger Ale, Ice cream Soda, and Cucumber Lemonade! Refreshing Summer drinks that will help you beat the summer heat!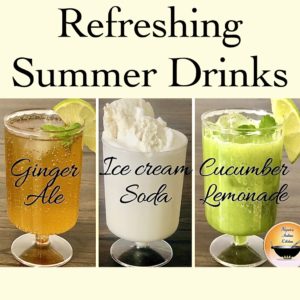 Refreshing non-alcoholic summer drinks/Summer mocktails
Description
Here I have 3 refreshing, cooling and hydrating summer drinks that you will love! Ginger Ale, Ice cream Soda and Cucumber Lemonade! Which one is your favorite!?
Ingredients
Ginger Ale

Ice cream soda

Cucumber lemonade
Instructions
Ginger Ale

Peel and roughly chop around 50 grams or half a cup of ginger 
Place that in a grinder jar and grind to a coarse paste
Next, add two cups of water to a pot and set the pot on medium heat 
Add in the ginger paste and let the mix come up to a boil
Once it starts to boil lower the heat and place the lid on. Let this simmer for approximately 15 minutes 
Simmering for 15 minutes makes sure that all the juices of the ginger are completely infused into the water
Strain it
Pour that back into the pot and add half a cup of brown sugar (you can also use white granulated sugar if you wish)
Set the pot on medium heat and stir until all the sugar dissolves
Boil this solution for approximately 10 minutes or till it reaches a nice thick syrupy consistency
Cool it down and pour it into a jar
Make sure to place an airtight lid on it
You can store this in the refrigerator for up to a month
Now let's make ginger ale!
Pour one or two tablespoons of the syrup and top it with some sparkling water or soda.
Squeeze some fresh lime juice or lemon juice, add mint leaves and ice if you like!

Ice cream Soda

We'll start with two scoops of vanilla ice cream
To that we'll add a little bit of sparkling water or soda and some vanilla extract
Let the ice cream melt a little and mix it in with the sparkling water
Top with more sparkling water

Cucumber lemonade 

Peel and dice one medium sized cucumber and add it to a blender jar.
Squeeze one lemon and add six to seven mint leaves, a pinch of salt, some honey (you could substitute with sugar as well) half a cup of chilled water, and blend till it's completely smooth
Strain it (if you blend it well you'll barely have any residue left)
Add ice, one slit green chilli (yeah for some kick), a little bit of soaked sabja seeds or basil seeds and then add the juice.
Top with some mint leaves and done!
Video
Summer drinks, Summer drink recipes, Refreshing summer drinks, Cold drinks for summer, Summer Mocktails, Ginger Ale, Ice cream Soda, Cucumber Lemonade, Cucumber drinks, Cooling summer drinks, Non alcoholic summer drinks, Easy and quick summer drinks, homemade summer drinksIngredients, ginger drink, sharbat, top summer drinks, summer drinks with soda, Mocktails, Sparkling drinks, what are good drinks on a hot day, which is the best drink for summer, healthy summer drinks