This keto cauliflower curry is spicy, peppery, and delicious!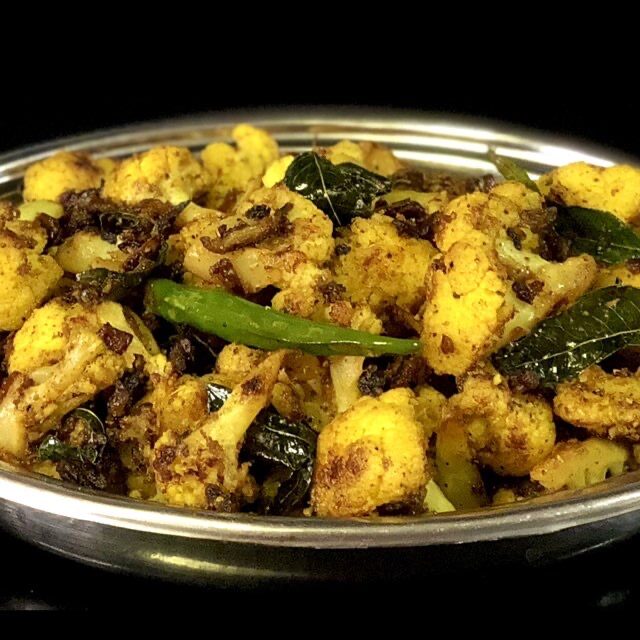 How to make Keto Cauliflower Pepper Fry
Description
If you like spicy Indian curries, add this cauliflower curry to your keto diet! 

Macros per serving (from MyFitness Pal)
Total protein: 2.7g
Total Fat: 10g
Net carbs: 4.6g
Dietary fiber: 2.6g
Total carbohydrates: 7.2g
Ingredients
Masala Mix

Other ingredients
Instructions
Add cumin seeds, fennel seeds and black peppercorns to a grinder and make a coarse powder
Cut the cauliflower head into small size florets. Wash well and set aside
Set a pan on low heat and add 3 tbsp. oil
Add turmeric powder and some salt
Add the cauliflower florets, place a lid on and cook for 2 min, so the florets soften a little
Turn up the heat and stir fry the florets until they brown well. This should take ~8-10 min 
Take the florets out into a bowl
Turn down the heat and to the same pan add a little oil if needed
Add chopped onion and curry leaves
Stir fry the onion till they turn golden brown 
Add ginger garlic paste and stir fry of another minute
Add the masala mix
Roast the masalas along with the onions for ~1 minute
Add the stir fried cauliflowers and green chillies to taste
Squeeze some fresh lime juice
Stir fry for 2 min till the florets are coated well with the masala 
Add salt to taste
Add garam masala powder
Some fresh curry leaves, quick stir and done!
Video
Keto cauliflower, keto cauliflower Curry, keto cauliflower fry, cauliflower keto recipe, cauliflower recipe for keto diet, easy keto cauliflower, keto Indian vegetarian recipes, low cauliflower curry, how to make keto cauliflower curry, keto cauliflower recipes, vegetarian keto recipes, Keto curries, keto curry, keto curry recipes, Indian keto, keto Indian recipes, keto india, keto Indian food, keto recipes, easy keto curries, cauliflower curry weight loss recipe